Adults with disabilities are often left feeling unaccepted by their peers, unaccepted for things out of their control. While there are certain disabilities that you can hide, others are inescapably obvious. As a society, we gravitate towards hiding those that are different. We put them in the back. We don't give them the spotlight. This project is about giving Steph the spotlight, about celebrating her abilities, and about raising awareness for adults with disabilities and the challenges they face. It is a reminder of the power of kindness and acceptance.
MEET STEPH + BARBIE PERRY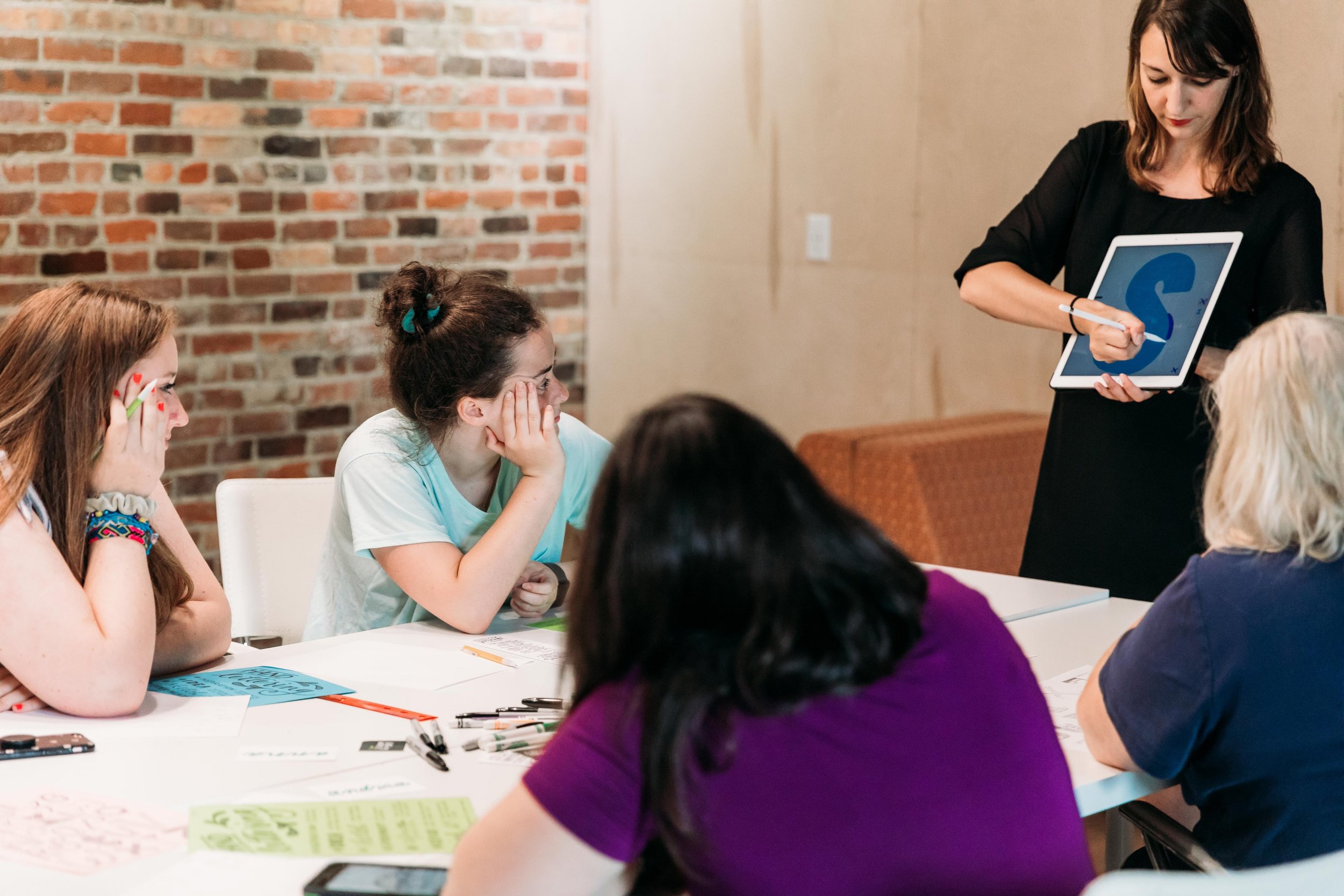 Steph and Barbie Perry took a lettering workshop at The Nest in Winter 2017. Steph left the workshop feeling inspired to apply her lettering to signs, cards, and other works of art. Fast forward a little over a year and her love for lettering her own designs didn't fade.
Barbie and Chelsie decided over coffee that it would be fun to help Steph turn one of her original designs into a sticker that she could share with her friends, coworkers, and doctors. With an upcoming partial knee replacement, it would allow her to focus her attention on something fun and celebrate her artistic talent.
Steph created her first design with her favorite colored markers. Barbie photographed it and sent it to Chelsie to prep it as a print-ready vector file. This process consisted of Chelsie tracing the design on an iPad Pro, vectorizing and coloring it on Adobe Illustrator, and adding a special "Steph Perry" credit to the bottom. The stickers went into production like any other project and landed in Steph and Barbie's hands soon after.
Steph felt so empowered when handing out her very own stickers, making it very clear that there was more that could be done. The project quickly evolved from getting a single sticker into Steph's hands to a way to build her confidence and creativity while raising awareness for the causes closest to her heart.
BUILDING A BRAND AROUND A PURPOSE
Building a brand for Steph's Stickers looked just like building any other brand that Lettering Works takes on. Steph and Barbie, deserved to be taken seriously and have a memorable experience built around telling their story. The name came naturally and Chelsie sketched logo concepts. Sarah Waldo of Violet and Ivy Photography did a professional photoshoot at The Spot, capturing the reveal of the logo options, Steph's confident selection, and the personalities of Barbie and Steph. Steph directed the brand color choices via her necklace that she custom-made for the photoshoot. Barbie, Chelsie, and Steph brainstormed messaging. Chelsie put together a social media calendar and custom graphics. Ultimately, everyone brought their passions and talents together for a bigger purpose. You can get a closer look at the design process in our blog post "The Story Behind Steph's Stickers - Lettering Works' Latest Passion Project."
Steph has created three stickers so far. They reflect her positive attitude about life and her energy and light that she brings into others' lives.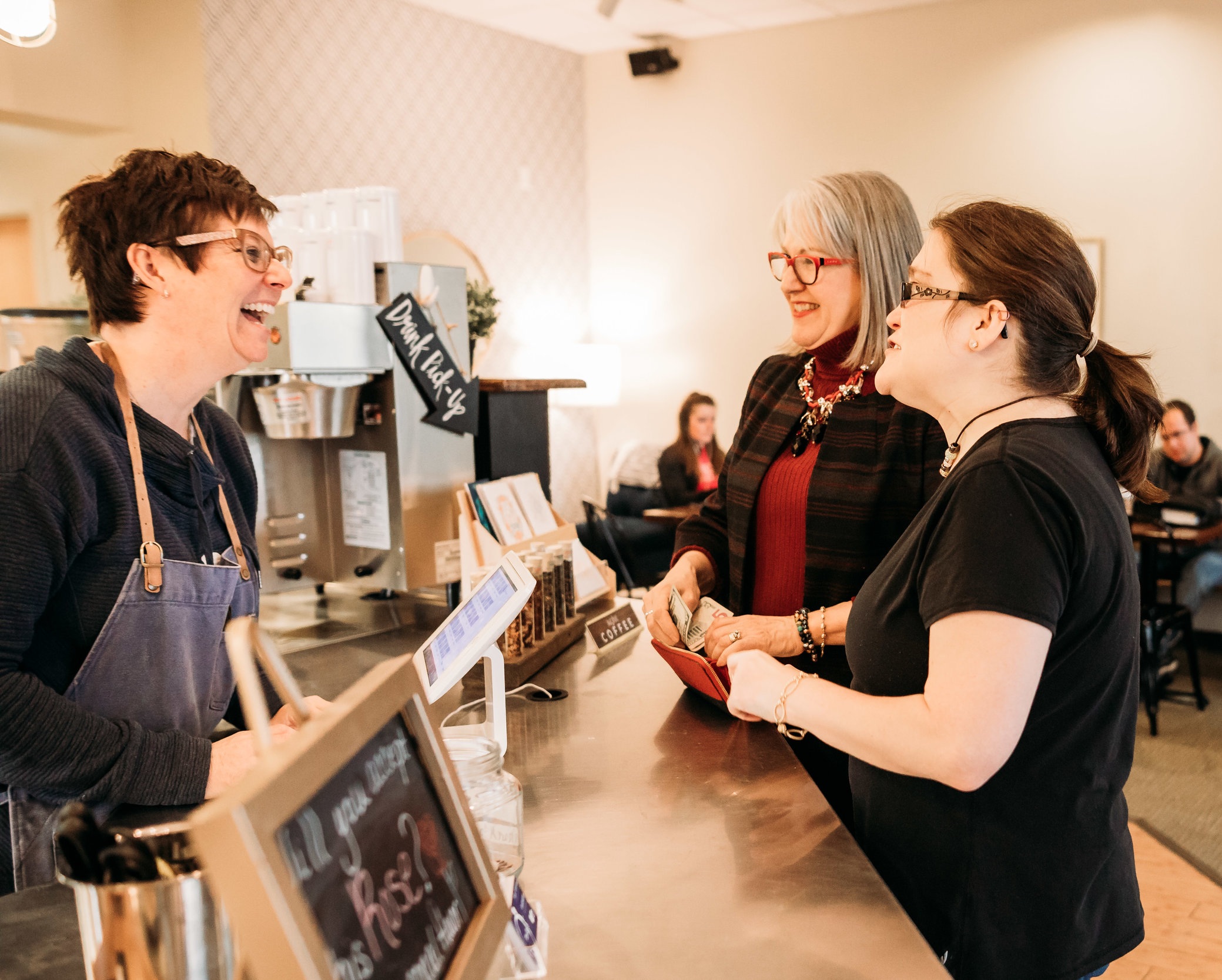 Be kind to other people.
Accept others who are different from you.
Educate yourself on the challenges that adults with disabilities face.
Consider contacting your legislators to advocate for those who cannot advocate for themselves.*
Meet Steph + Barbie Perry at Lettering Works Third Anniversary Ribbon Cutting